I want better interface
I want to feel freedom when I use this awesome app
I want speed
There are serious problems about MarginNote updates
When update came this app sometimes lose great interface
Maybe the feedbacks aren't listening enough
Or the aim is has not clearly understood by developers
If the new speciality cost MarginNote fluency ınterface than the developers should tkink twıce about this.
Because everytime we add something, the flexibility of app can be damaged
For example there was no mind map writing before and we wanted that speciality so much
Than it come out thankfully but than second problem arısed, we can't write on nodes without open new window.
Than there was another update arised (the focus speciality with click to write on nodes) but now we need to click it everytime. And when the mind map gets bigger, the opening and closing process (after clicking on nodes for focus to write) slows the app.
THE PROBLEM IS HERE CLICKING, I talked about many times. Don't think as a losing time, think about WILLPOWER instead.
Evertime the user needs to CLICK, the WRİTE İNSTİNC is INTERRUPTED, so THE COST: LOSING EASY INTERFACE.
the user should wrıte anything he wants without clicking something, please understand it !
Think about Apple notes for example, why it is so common even if it doesn't have %50 specialities of any writing app in store ? Because the answer is INTERFACE. The user don't need to click anything to write !!! The user even can reach the writing on Lock Screen with pencil !!!
NOW
I SUGGEST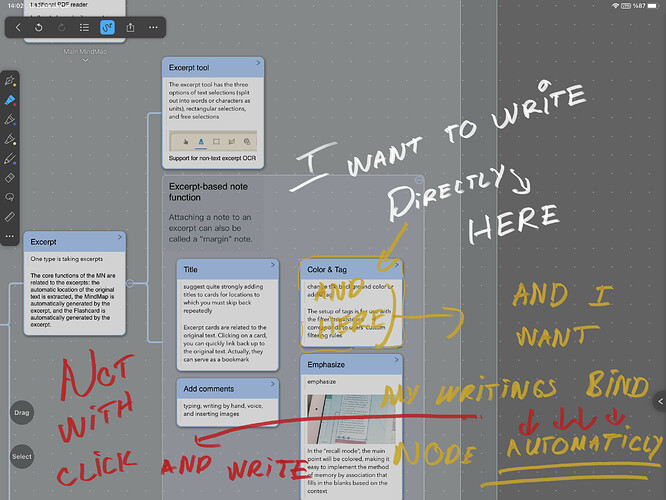 THE WRITING ON MIND MAP
WITHOUT CLICKING SOMETHING TO BIND SOMETHING
I WANT WRITE ON NODES, AND MY WRITINGS SHOULD STAY ON NODES
WITHOUT I NEED TO :
CLICK
OR FOCUS
OR OPEN ANOTHER WINDOW
I WANT WRITE FREELY
The focus for binding writings could stay but this suggestion should be alternative for users TOO
I hope I can explain clearly