Mail Delivery Failure:
1.xxx @ugm.ac.id
How to Apply:
1.Email Title: Education Discount - MarginNote 3 for Mac (*Must)
2.To service@marginnote.com with a legit university/school mail account. (*Must)
3.Photo of Student/Teacher ID Card (*Must)
4.Provide a personal email address in case your edu email can't receive incoming messages sent by us. We've had a dozen mail delivery failures already and could not contact the applicants for that reason.
Info On Edu Coupon
Availability: Non-MAS Licensed version (MAS=Mac AppStore)
Download at: https://www.marginnote.com/store-v2
https://s3.amazonaws.com/marginnote-product/macapp/MarginNote3.dmg
14-day Free Trial Available in the App.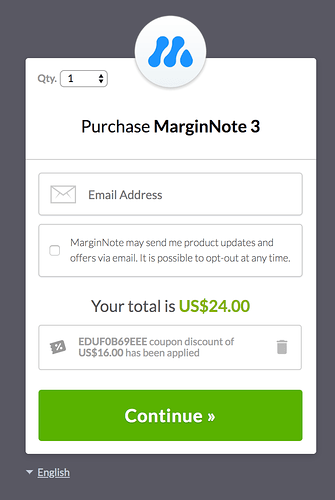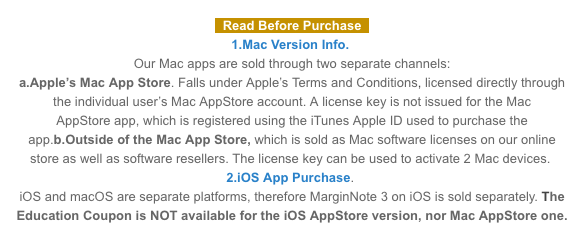 Frequently Asked Questions:
1.My university/school does not provide us with a student mail account, what should I provide instead?
If your university/school does not provide such mail service, please send us authentic student ID/registration info. We conduct info check in good grace while maintaining the right to revoke the code if the information provided is later found untrue or borrowed from a third party.
2.K-12 Related
For non-university related students and teachers, please provide us legit school info and status confirmation info as much as you could.
3.I work in an education-affiliated organization, will I be qualified to such education code?
Yes and please provide as much info as you could to show us what you or your organization/institution is working on and how it is related to education.
[About Reopen at Paddle]
Purchase method change:
As Devmate is about to shut down, MarginNote 3 has switched the licensing system from Devmate to Paddle since version 3.5.9007. MarginNote 3 will no longer support purchases through FastSpring, but only through Paddle services. Activation codes purchased by users through Devmate in the past can still be activated and used.
If you want to continue to use the following services, please update to version 3.5.9007 or higher as soon as possible:
Purchase MarginNote
Customer Feedback
Crash Report
MarginNote
Support Team