hi, how can i set a specific colur as default color?
Hello
Sorry, custom excerpt colors are not yet supported. I have archived your request.
Kind Regards,
MarginNote-Edward
Support Team
Hello
Marginnote does not support the editing the table of contents in PDF.
Kind Regards,
MarginNote-Edward
Support Team
can I open the file using other software in order to edit the contents?

Hi Vivoperte,
I sympathise with you.
I use an application called PDF Expert to create these Table of Contents for PDFs. I went through a phase of trialing the major PDF readers to find this functionality. I settled on that one. Unfortunately that meant coughing up $80.
Fortunately, the mobile version can create a table of contents for free. To illustrate:

We're brushing up against a feature request here.
The main reason I don't use MarginNote as much as I'd like for annotating non-PDFs, like Web Pages (using 'Import as Web Page'), is from the insight that many advanced readers will hop back and forth as per their background knowledge and purposes of their reading. In my case, it's then very rare I read from start to finish, and when I do, I rarely if ever take this approach on subsequent reads. So when you can't navigate a source quickly your ability to process the source is cumbersome. It would be particularly helpful to create Table of Contents in MarginNote because annotations can be viewed in the context of the original headings.
Maybe we could receive this functionality in MarginNote 4 alongside a local file management option.

Good luck on finding your PDF editor of choice.
*: Note PDF Expert is only available for Apple devices.
Hi,please look at question in screenshot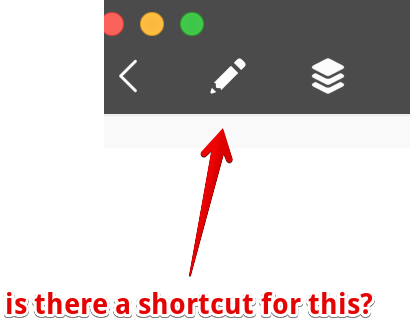 Hello
There is currently no shortcut for this button, you can try using Command+Option+1-6 to switch to the handwriting tool.
Kind Regards,
MarginNote-Edward
Support Team
You have my support on that request. I think it would be really nice to incorporate the ability to add/edit ToC. I currently use Adobe Acrobat Pro (on PC) by the way.
Regards,
Rafael.
Hello
Thank you for writing in. I have raised your request to our Development team but we cannot assure a time frame when it will be put into effect. Please feel free to contact us again if you need any assistance and we will be happy to provide further help.
Kind Regards,
MarginNote-Bubble
Support Team