I'm a veterinarian who is specialising in zoo medicine. So I have to study a lot of different species (I have a notebook for each), and within those species, a lot of different diseases, besides other relevant topics. Im trying to keep things more or less organised by having a note with name and general info about a disease and then a lot of child notes for the agent, the clinical signs, the treatment, etc.
When I do my first reading I go through 10 to 20 diseases in one go, and I excerpt all this data in order, so it's easy to then organise by disease in my mindmap. But at the moment I'm having to then go manually node by node giving them the respective titles. Is there a way to select a bunch of nodes and add the same title to all of them? Or should I be doing this differently? Image to show what I mean.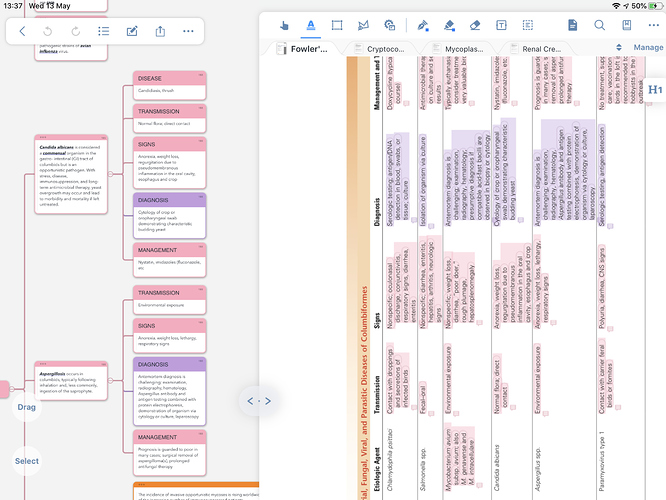 My other question is also about this workflow. When I go back to study and review all of these notes, I need to study by species, but I also need to do it by system/class (like cardiovascular or infectious) and by disease, so I can correlate all this information in my head, like disease x affects all these animals, and is treated this way in most of them except these, is always diagnosed like this, etc.
So I thought the best way to do this would be using tags, so I can search by "avian influenza" or "lead toxicosis" at a later date for example and come up with all the information I have on these, spread through all my species-specific notebooks. Again, does this sound like a good idea?
And when I tag a node, is there a way to have all present/future child notes receive that tag as well automatically? Because at some point, some diseases will have a lot of tags like infectious > bacterial > gastrointestinal > salmonellosis etc, and I worry that having to do this manually each time will lead to some tags being missed, or that instead of being able to read my source text uninterrupted I will have to be constantly organizing my data in the mindmap which is also not what I want.
Thankful for any advice!


Sara