Hi. How can one make the highlighted text to show inside the table of contents, below its corresponding sub-heading in the outline?
I've managed to display the table of contents in the outline view (and in the mindmap, but I'm much more interested in the ouline); the notes are added at the end of the outline. Then I thought I had found what I need when I saw that the bottom left small button had an option to sort the notes by page. But the notes are only divided among part I and part II of the pdf, even though the table of contents is properly organized hierarchically in the outline. See pic: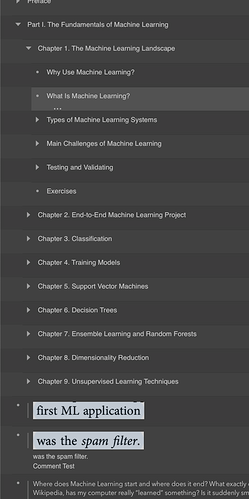 The 3 highlights that can be seen in this pic, should really go just below "Chapter 1. The Machine Learning Landscape" from the TOC. There are more in subheadings of this chapter and sub-subheading, but all of them are displayed at the end of "Part 1…" . Same way, the notes of each subheading of Part 2 are all displayed at the end of all subheadings of part 2, not below their corresponding subheading…
This was the feature I wanted the most and the reason I changed to MarginNote, as it seemed it organized the notes by their corresponding headings. Am I missing something (hopefully)?