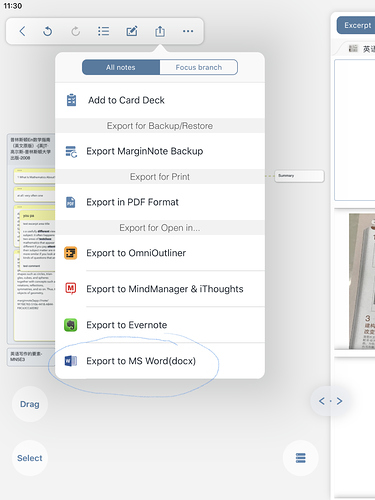 Print's definition is a snapshot of your work space. PDF saver is an universal alternative of the real printer. If you want docx, please use export.
@Lanco_Support-Team It might be a snapshot and all pages can be saved plus it shows emphasised words with the print button, when I compare it to exporting with PDF. There is no print function with MS WORD EXPORT, that's why I am reporting.
I use Word a lot because cos it is easier to edit the study outline and there is less formatting with my text compared to exporting with PDF.
I also noticed that the print button somehow retains the emphasised words.
Please add the print button I would really appreciate this.
Do you mean print docx from ipad to a real printer?
The same print button/functionality that PDF export has, as in the picture at the top.
This button was there previously but has been removed check previous versions of the MN App.
I'm still requesting the print button for MS Word. As I've mentioned before the print button was there previously so I don't understand why its been removed?
My workflow mostly uses outlines using emphasised words and text is easier to change/format in MS Word, so sending documents to MS Word via the the print button is crucial.
With the print button I am able to use the zoom in gesture to get all my pages saved to MS Word it also retains the emphasised words which I need.
Also, I need to add that the Copy to Word button doesn't retain the emphasised words from the MN study.
The export to MS Word Export button doesn't work to retain emphasised words, but using the print button then saving all pages retains emphasised words.
Surely this is a simple and quick task to add back for the developers, I just don't understand?
https://forum.marginnote.com/uploads/db0738/original/1X/fa8d0473f53c4e042328dae210aaa4cceea31e30.jpeg
https://forum.marginnote.com/t/feature-request-reader-view/1122
Can anyone else help with this cos I am getting no response?
The printer button and its interface are absolutely provided from IOS pdf processing. MN could do nothing on this. The support to Docx is alternative and function-restricted. The only way to get the better of Docx has been notified on your other thread, as generate Docx by Pandoc extension by far.BUG - Emphasised words in export are lost in MS WORD
If you want further support of data export. We have decided to offer an extension platform with data API based on Python SDK. The related version is 4.0 which may be released in Autumn next year.
If anybody has demands about data processing API, please notify me and your advice will be a design model of it.
I stopped using exporting to Word because it doesn't work.
Now using exporting to Evernote, now it doesn't work!
Oh, that's sad.
It's suggested to use PDF, as pdf has best support.
A moment ago, I remembered a way to get better docx. Pdf could be converted into docx by microsoft office and many other app. That's more easy than Pandoc.