It would be awesome if we could edit the table of contents directly on MN3!
Also, my table of contents keeps expanding? Is there a way to prevent it from doing so?
+1 Really handy coz most of the papers' TOC are not recognized in MN3
+1 For this, I have used Acrobat to build up a TOC using bookmarks, but it seems the TOC must be done entirely before beginning to work on the PDF in MarginNote. So, a way to edit the TOC in MarginNote itself would be very helpful !
Hi Johnny,
If you've got PDF with built-in TOC that has problems to have the TOC displayed in MN3, please send us the document to service@marginnote.com. We would test it out and see what we could do( or not).
+1. This function is very helpful. As for now, I must edit the entire TOC for a PDF file with PDF Expert and then send it to MN3. It's quite annoying especially when I want to read the PDF file immediately and expand the TOC during the reading.
Hi Mobo and Woet,
As far as I know , TOC is used for navigation marked contents in the book as a sign of traditional pdf tool. But MN is designed to be powerful new margin study tool. Every single margin note is a linkable bookmark to the book.And with Outliner, Tags etc. help, its easyly to do the same thing. So let the traditional tools to do that TOC and make clear division of labor. That's ok.
Have a try with advanced profession outliner.
Kind Regards,
Lanco
MN Support Team
For me, TOC is used to show the structure of a book and it presents a different perspective of a book compared with marked contents. More specifically, it's a catalogue of a book. It's true we can mark the title of every chapter and construct a TOC. However, this method will mix the two things up, which seems unacceptable for me. The following picture shows what I really want. It would be really nice if this Contents is editable in MN 3.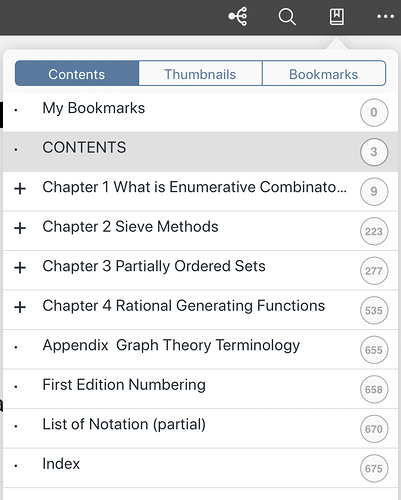 I agree with @WOET. The TOC is the structure within which we add our notes. It's part of the book/article, and should be separate from our notes. It's important to be able to easily distinguish between what the author has written and what we are writing in our notes. I agree that mixing them together is not an acceptable solution.
@Lanco, I don't understand what you mean by "advanced profession outliner". Are you referring to another app? Personally, I want fewer apps in my workflow, not more.
Also, even if we add a TOC with another app (e.g., Adobe Acrobat), is it possible to update the PDF after we have imported it into MarginNote? Is it possible to re-attach the PDF and re-import the TOC? It's not clear to me how to do this, or if it's even possible. The only way seems to be to add another copy of the PDF, and then copy all my notes by hand — not a good solution at all.
Bump. @Lanco_Support-Team, any thoughts about this? I'm still wondering if it's possible to update a PDF, as described in my last message.
Sorry for delaying your reply.
Hi Mobo,
we do have easy way to update the pdf file within a Mindmap Notebook. And it can be used to do what you describe to import the newer pdf with edited TOC.
As the pic. shows, when you directly delete the old pdf file but keep the notebook file,the study interface will shows like blank pdf.

Then click 'manage'.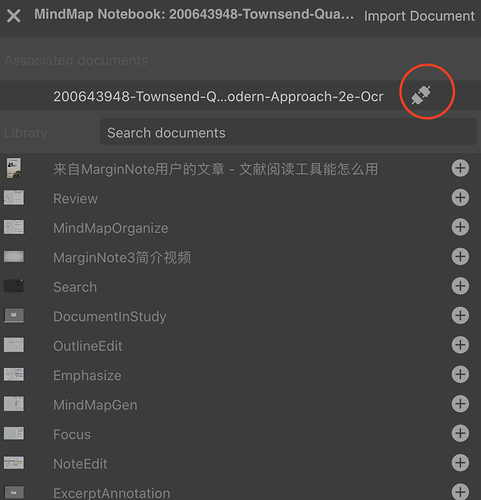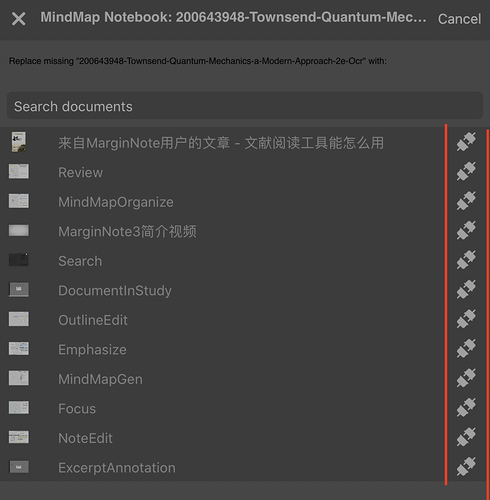 There is a button like plug. Once old pdf's plug out , the new pdf could compulsorily plug in with existed note.If your new pdf is the same book,the file within notebook will be updated.
Finally, TOC editor need some time to look for a pdf tools solution. And if I have news about it I will mention it to you here.
I'm using PDF Expert 7 (free edition) to add a TOC to PDF and would appreciate the feature in MN3 as well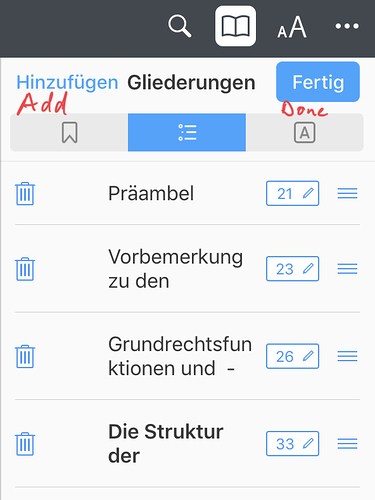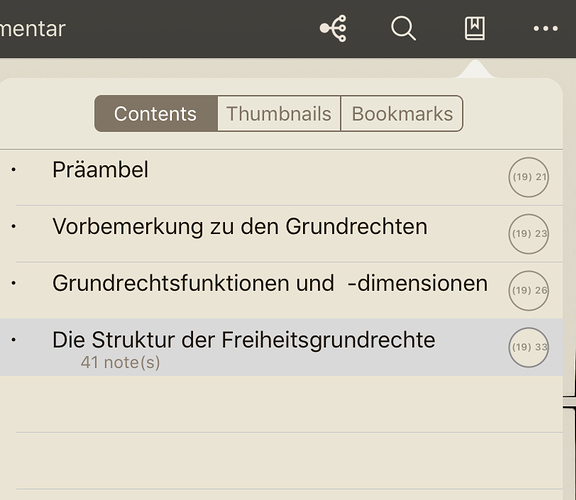 If you edit the PDF in the iCloud MN folder you don't need to remove and re-add the document; just close the other editor/ save there. It will be reflected in MN.
I will try my best. I'm still summarizing your demanding background about this for further discussion with Team.
Two potential solution:
1, Files Integration: MN's PDF could be edited by other Tools like PDF viewer and auto-update fine.No longer need to re-link file.
2,Add TOC editor
I would appreciate adding a native TOC editor (so many files come without a TOC) but understand that MN usually doesn't change the PDF itself but creates a layer on top.
Ideally, a TOC editor would allow me to highlight like an excerpt but just as that to the TOC.
Okay, it would be great if you could provide another TOC editor necessity explanation as a complement to WOET and mobo. (About how do you use with TOC and why the outline cannot replace the TOC? Or what's your workflow with TOC? )
Since the TOC is already in plan of alternative function to 3.5(Sep-Oct), we need to raise the priority.
Please please please please do this. I have wasted hours of my time using shoddy external apps to do this

it would be great to do this live on the document viewer (it would be extra useful to also include an auto TOC maker/editor, but also a manual mode where you choose your own. THANKS. I want to add TOC WHILE im reading the book, as not every little content in the source is relevant to me
Its especially necessary when I want to consolidate multiple sources into one mind map! I still haven't figured out how to do this automatically. I can guess that having the same Title/TOC title can provide an easy way to merge child cards. Can you please implement this? i.e. If on one article I have created a title called "Oranges" and then on another article I have a title called "oranges" (on seperate or on the same tree somewhere else) I want to be able to be able to merge these as children of "oranges". Honestly, this is what I thought I was getting with marginnote

I am actually extremely disappointed
@Lanco_Support-Team
For me the potential solution 1. would be sufficient.
I have another request/ idea: I am working on a document (in word, writing full text); basically it is an overview/summary of a certain topic provided by the university and I fill it in with my notes and excerpts. Simultaneously I have the raw version opened in MN3 to generate a comprehensive Mindmap of it. But of course it doesn't update with the word document, I have to copy and paste everything I wrote in the word document if I want to add it to the mind map as well. I know, a syncing process is problematic, because MN3 doesn't support word files, but this would actually really help. Wether it is word or another text editing program…
And what do you mean with "advanced profession outliner" as said above?
Thank you so much!
Linda
TOC support is on the top of our Dev. Todo now. I will notify this thread when accomplish.
By the way, https://cforum.marginnote.com/t/topic/1950?u=lanco-mn_support this post is an easy way to make TOC by OCR. Since MN 3.5 has supported OCR, some simplified workflow may help to do so.
Regards
Lanco
Support Team